Certainly, the older generation is familiar with Currier and Ives prints.   (https://en.wikipedia.org/wiki/Currier_and_Ives).  Currier and Ives were in business together from 1835 to 1907.  Currier and Ives had freelance artists create drawings of everyday scenes for them.  These scenes were printed in black and white and then farmed out to artists who would color them in by hand in their home.  It was quite a remarkable cottage industry that employed many people.  Currier and Ives had found a demand in an inexpensive way for lower income folks to decorate their home with pictures.  Companies like Brunswick-Balke-Collender Co. would also purchase these prints and then put their own names on the prints and gave them away as free advertisements.
The Currier and Ives prints depicted everyday scenes from the times.  Many of the prints make you feel good and you want the picture in your home.  Arguably, one of the most well know examples of a Currier and Ives work is, "The Road – Winter" by Otto Knirsch.  This print makes you feel good and certainly you would not mind putting your companies name on it and give it away as a form of advertising.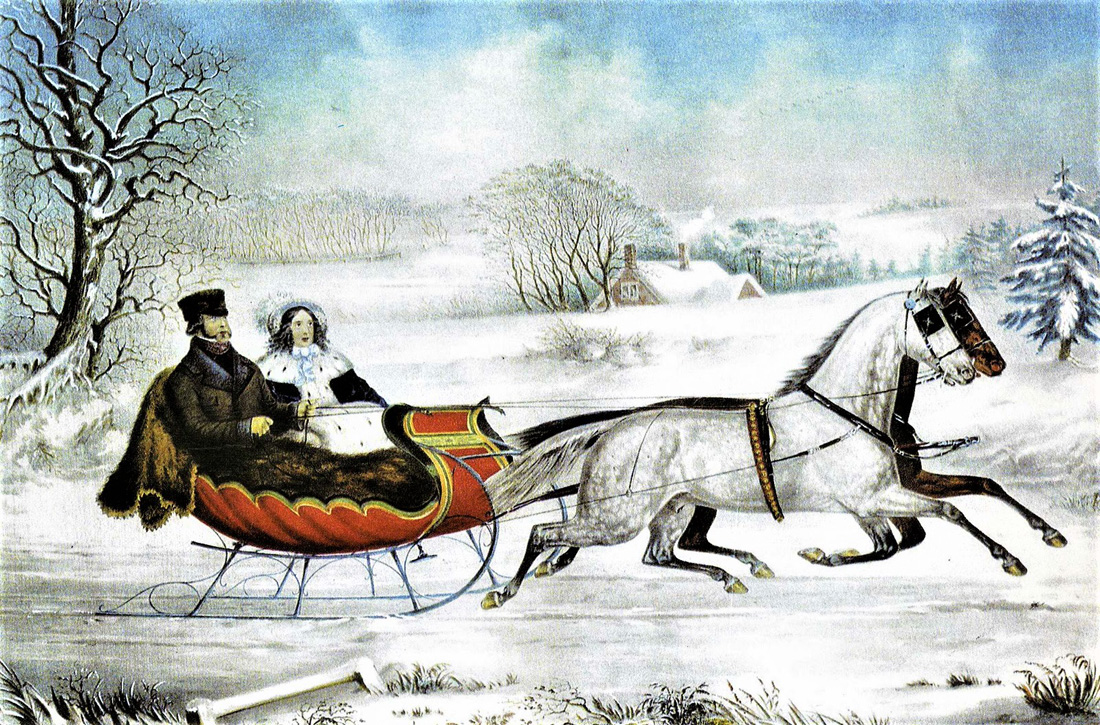 The fact that there are many Currier and Ives prints that involved billiards is a true indication of the popularity of billiards in the late 1800s.  Following are several examples related to billiards.  Many of these billiard scenes where quite romantic while others, to be shown later, are more troubling and exhibit conflict among peoples of the time.
When you look at this 1874 Currier and Ives scene titled, "Frozen Together".  I will bet you feel good and it puts billiards in a good light.  Perhaps you would want to put your billiard parlor's name on it.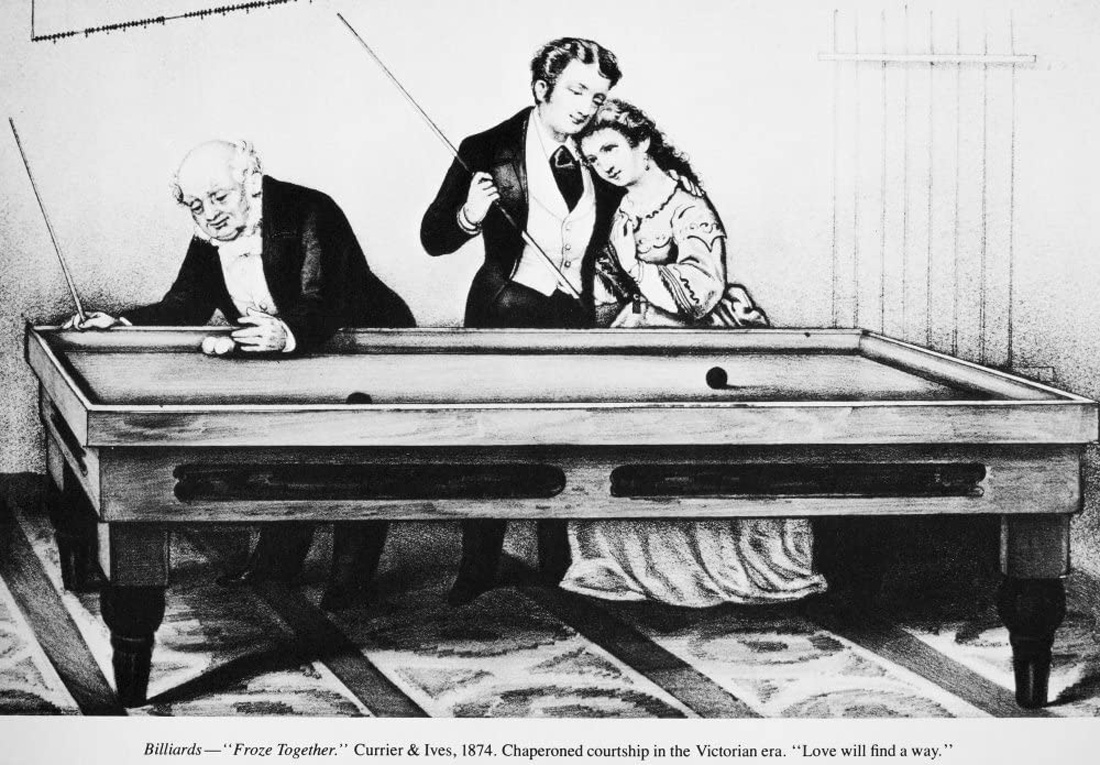 This look at a Currier and Ives billiard scene is titled, "Billiards – A Kiss" of course this is a play on words, a kiss of the billiard ball as compared to a kiss of a girl. This scene would want to make anyone feel good about playing billiards.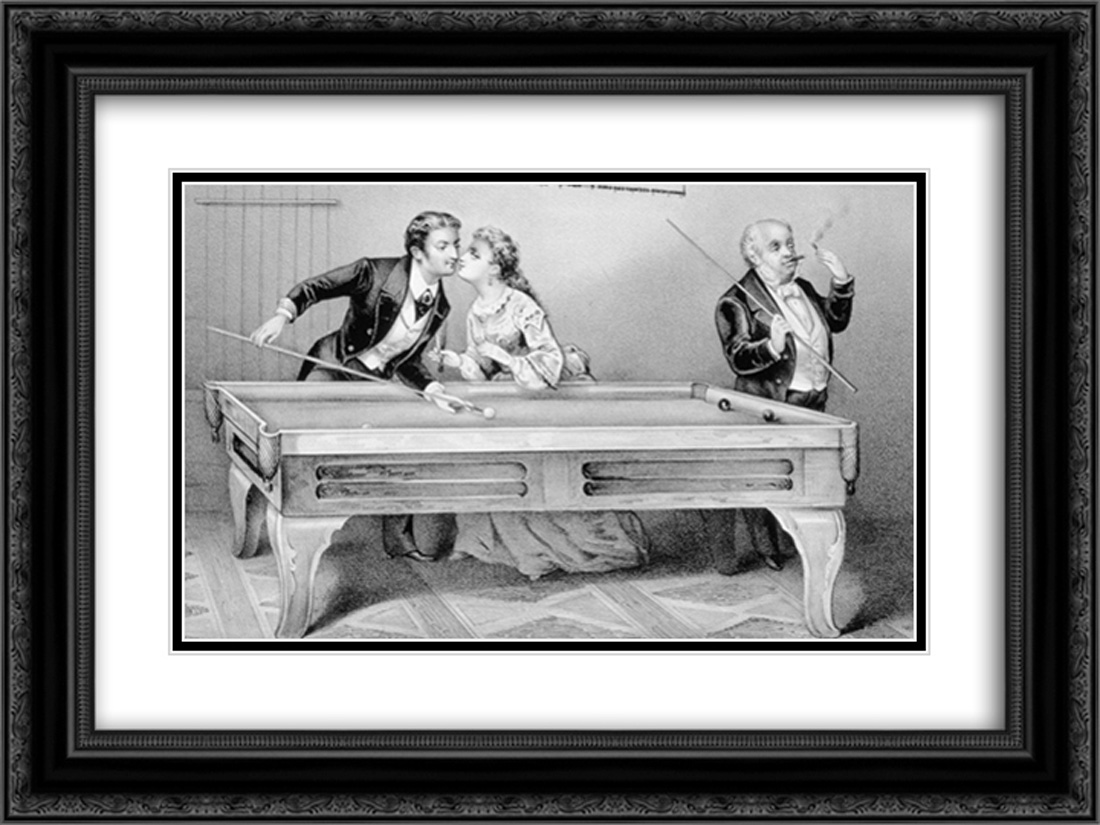 Currier and Ives prints are known for not only showing the pleasant scenes of American life but many of the company's prints also display the worse in the interactions of society all in the interest of making money for the printer. Below is another Currier and Ives print that is titled, "Billiard – A Double Carom". The title has more than one meaning, a double entendre, which is quite common in Currier and Ives prints between what you see on paper and the titles at the bottom. Certainly, this print is not a good image for the billiard industry in the late 1800s. This is the best of time in the business of billiard for companies like Brunswick-Balke-Collender for they were at their peak and there was much consolidation of the industry. Is this image good for selling more billiard tables?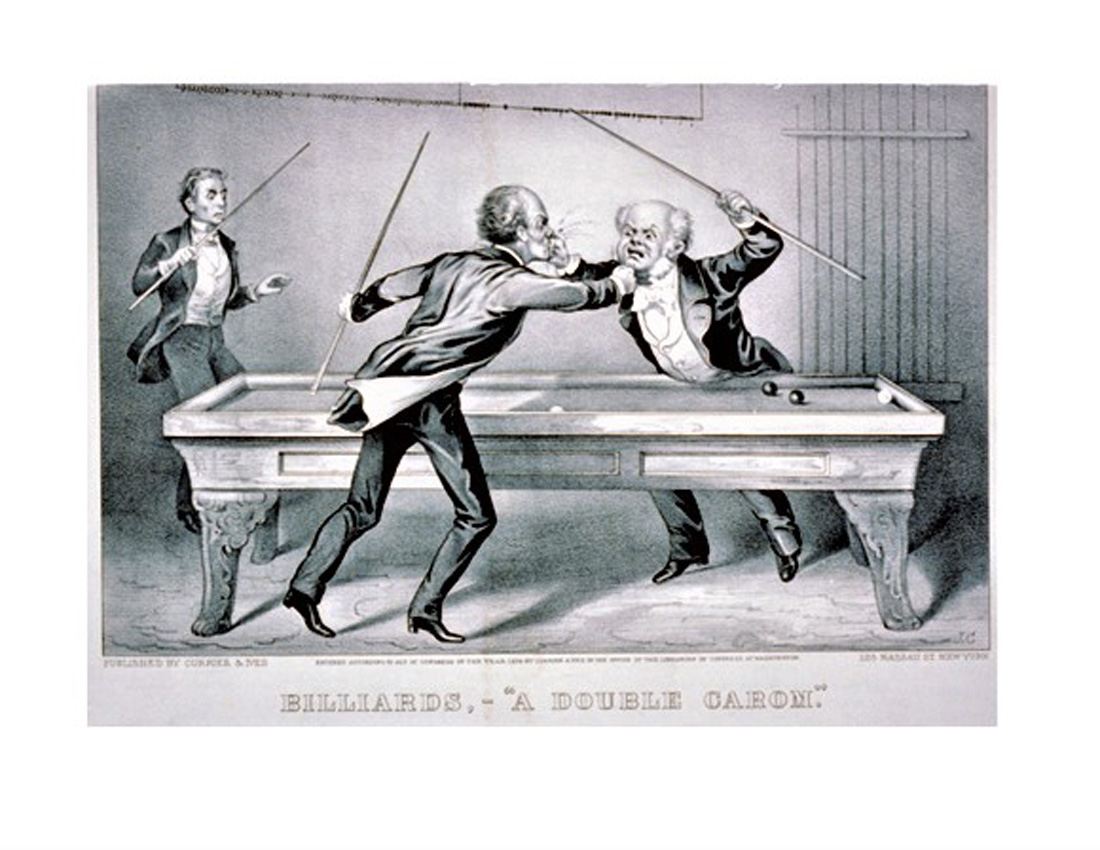 This next Currier and Ives print is not the most pleasant scene with everyone up on chairs or the billiard table while the black man and a dog try to remove the critter. I am not certain what to make of the scene or the title, "The Chance of Billiard". Is there a double meaning?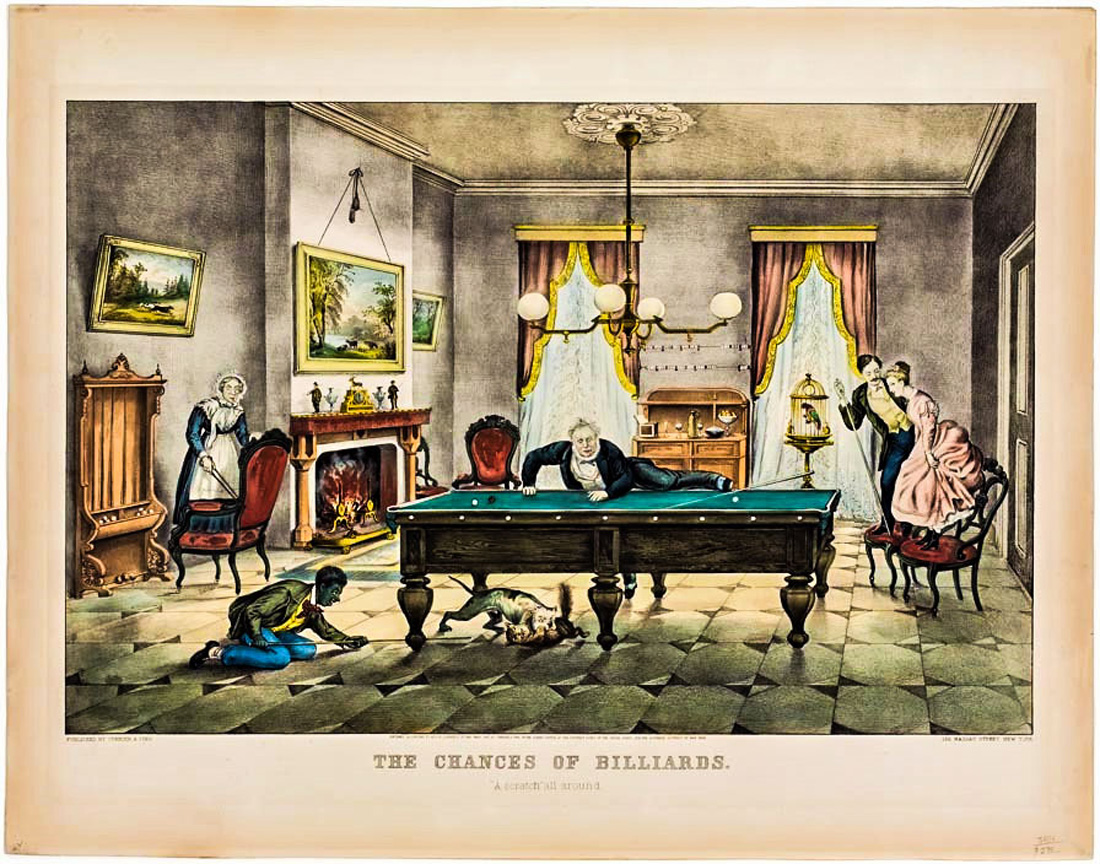 While an indication of the times, this next Currier and Ives print would not be politically correct by today's standards. The title of this piece, "The Beauties of Billiards" has a double meaning. At the right end of the table the man is being poked by the billiard cue and at the other end the black waiter is being tripped with the cue stick and the player is about to punch the black man. Why was this image appealing to the billiard player of the day or the for the sale of more billiard tables?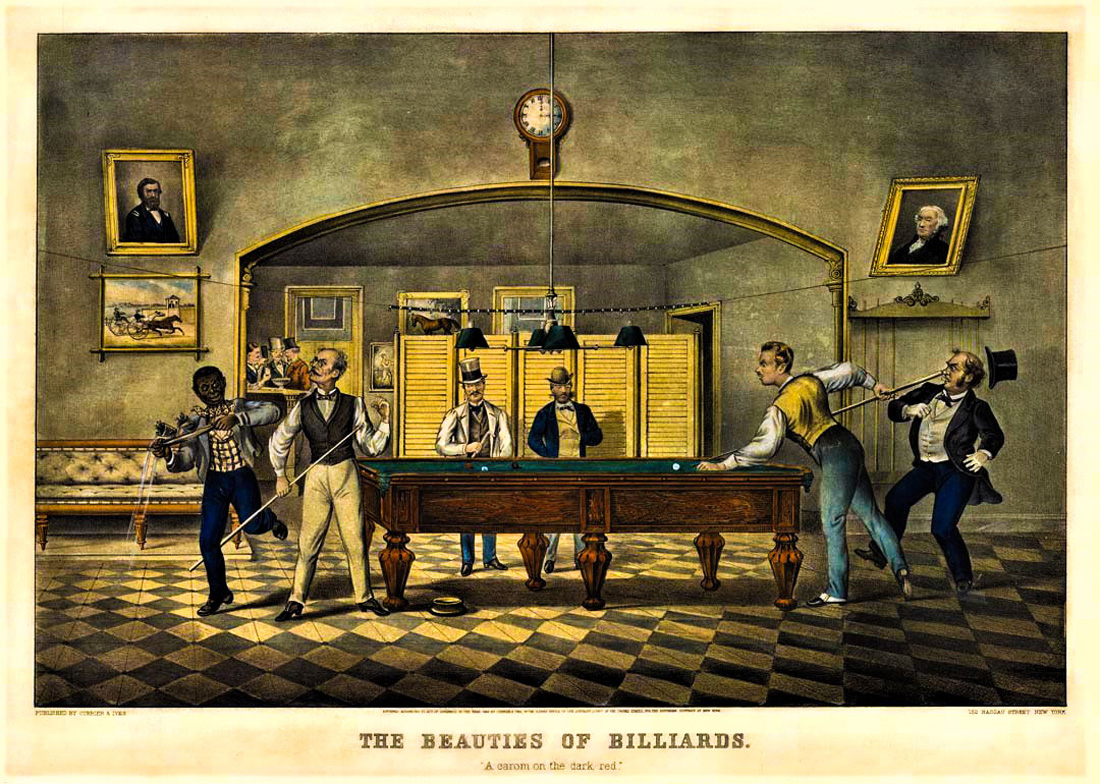 This next Currier and Ives print from 1882 is hanging on my wall. Occasionally, someone will ask me if I think it is appropriate to have this print hanging today as we strive for inclusiveness. My answer is, "Yes", "This print is a constant reminder of the pain that society inflicted on Black Americans in the past. We must work to be a more inclusive society as we go forward from today".
Notice again a title with a double entendre as the title relates to the print.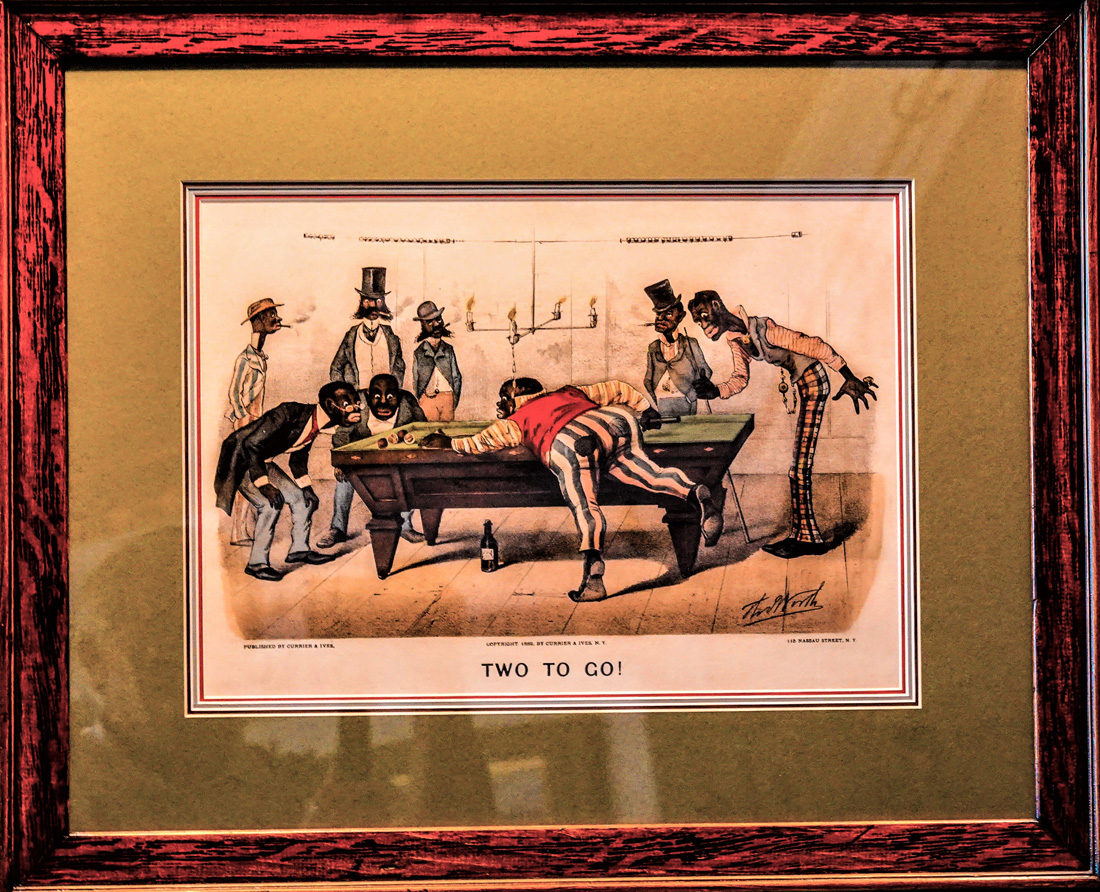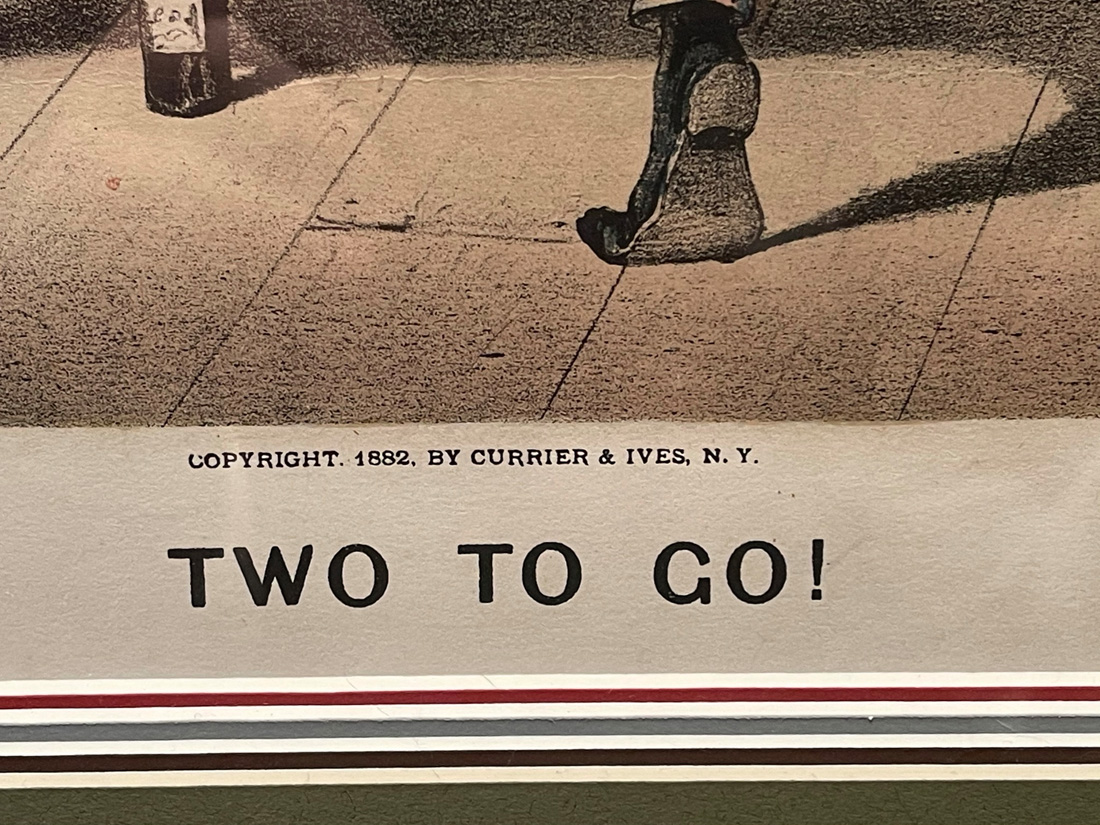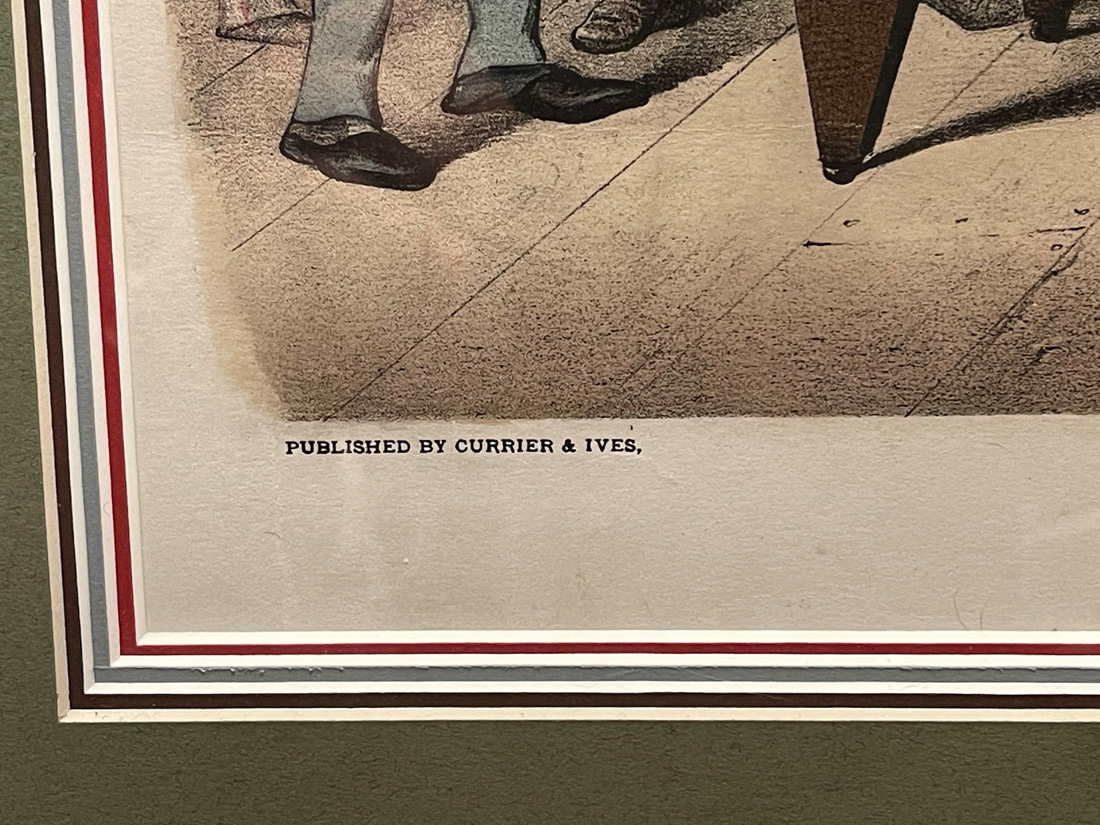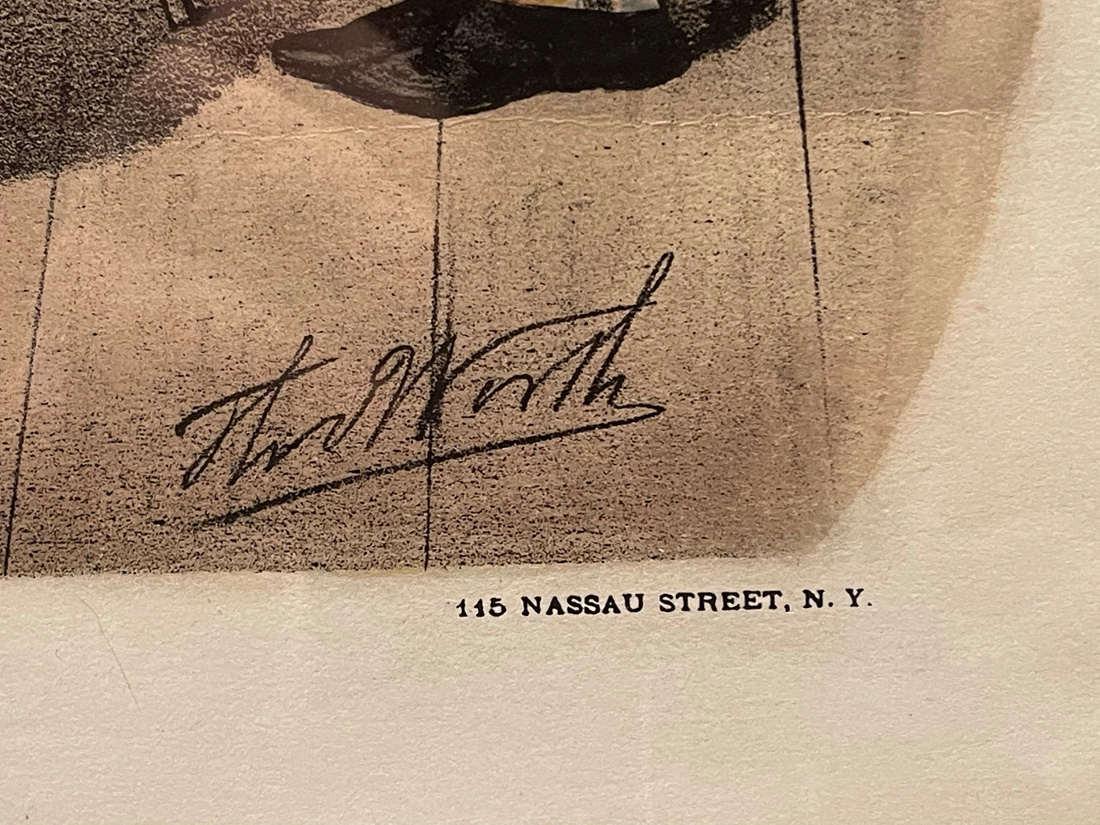 But there is more to this story as it relates to billiards. This Currier and Ives print is one of a pair that was issued by Currier and Ives in 1882. The second print was titled "GOT 'EM BOTH" Not a good scene but it did appeal to some including a certain billiard company.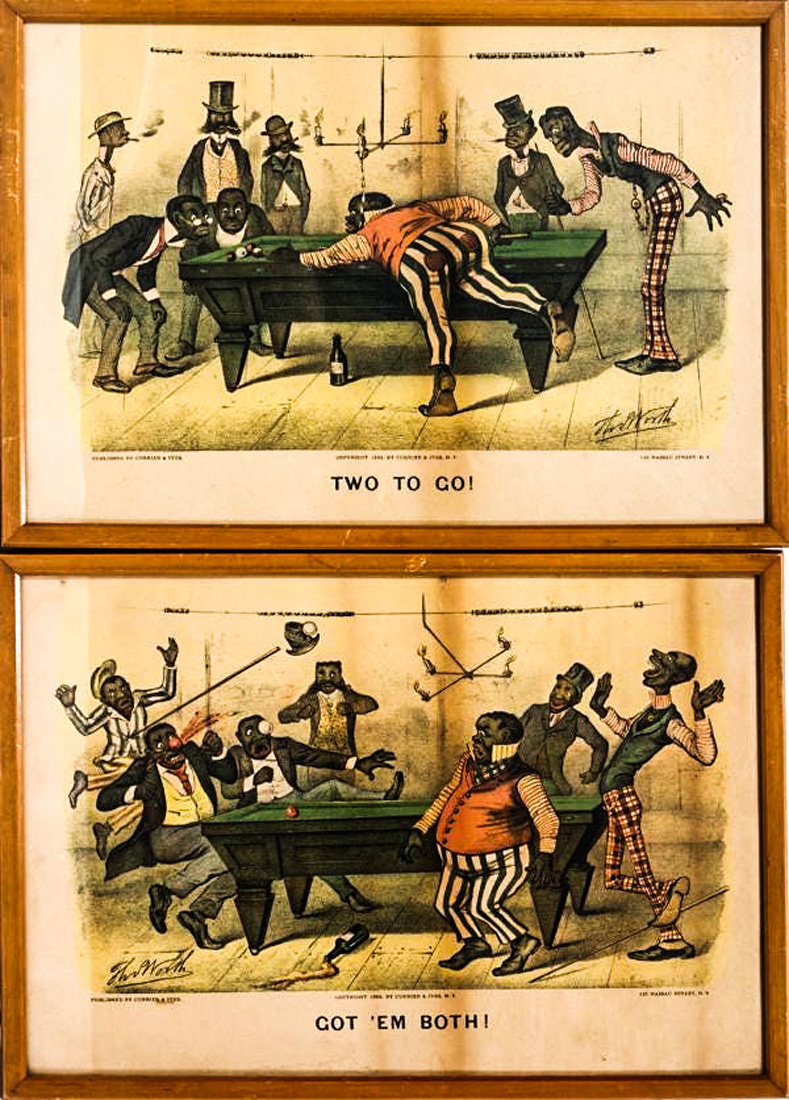 Few people know, or maybe they wish to forget, that between 1879 and 1890 Currier and Ives issued 75 prints called the "Dark Town Series" covering a full array of negative stereotypes about American Blacks in the post-civil war period. Google that subject for more disturbing information. The two prints above are part of that series. It is said that the Dark Town series was one of the most popular series that Currier and Ives ever printed. What a sad statement and a sad time when a New York printing company would feel compelled to present artistically a compilation which bares painful, vivid testimony of the racial attitudes of the time solely in the interest of making money. It makes one think twice about admiring any Currier and Ives print.
The two framed prints below are the most concerning of all. I find these prints troubling from a corporate governance point of view. Even in the 1880s, I would have thought it unacceptable for Brunswick-Balke-Collender Co. in Toronto Canada to print and distribute this print to customers with their name on it. Did these print bolster Brunswick's image and generate sales at that time?? Brunswick must have thought so. Brunswick would like these images to be swept under the rug. That should not be allowed to happen. The prints should remain as a reminder that TODAY AND EVERY DAY GOING FORWARD, WE MUST STRIVE TO BE INCLUSIVE OF ALL.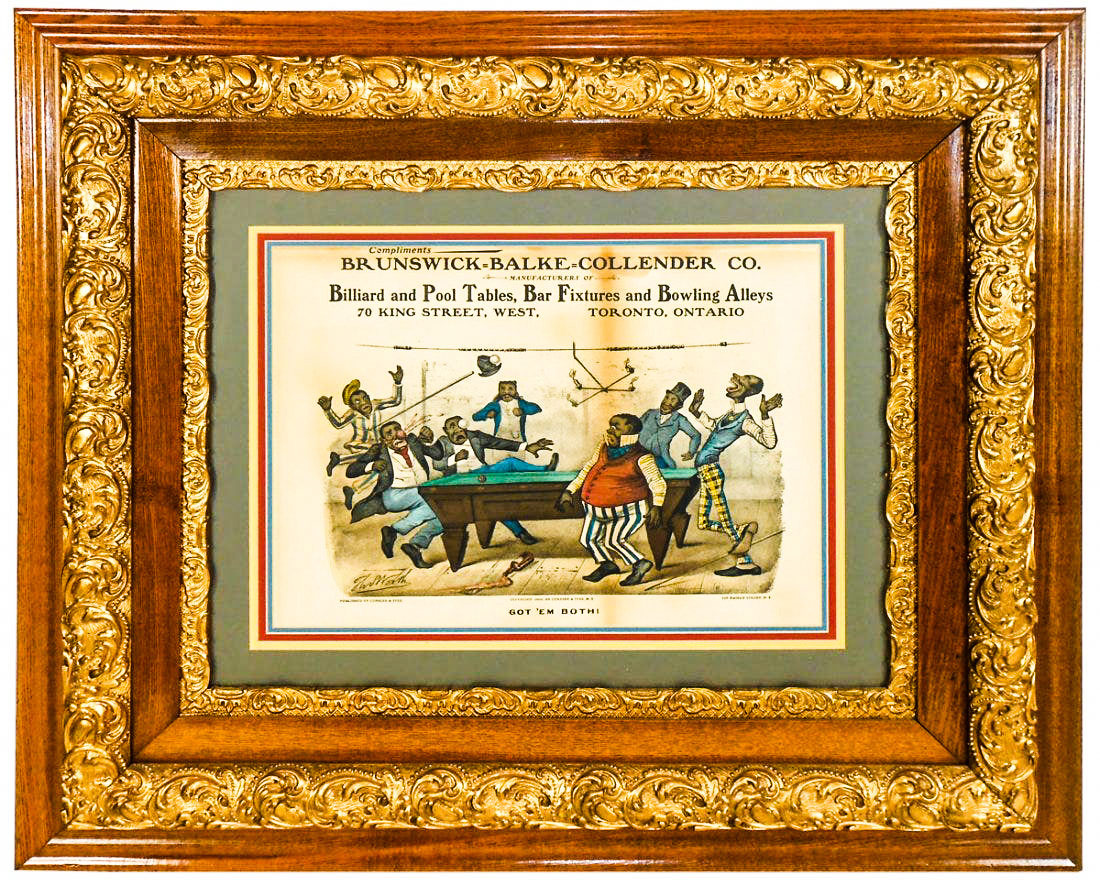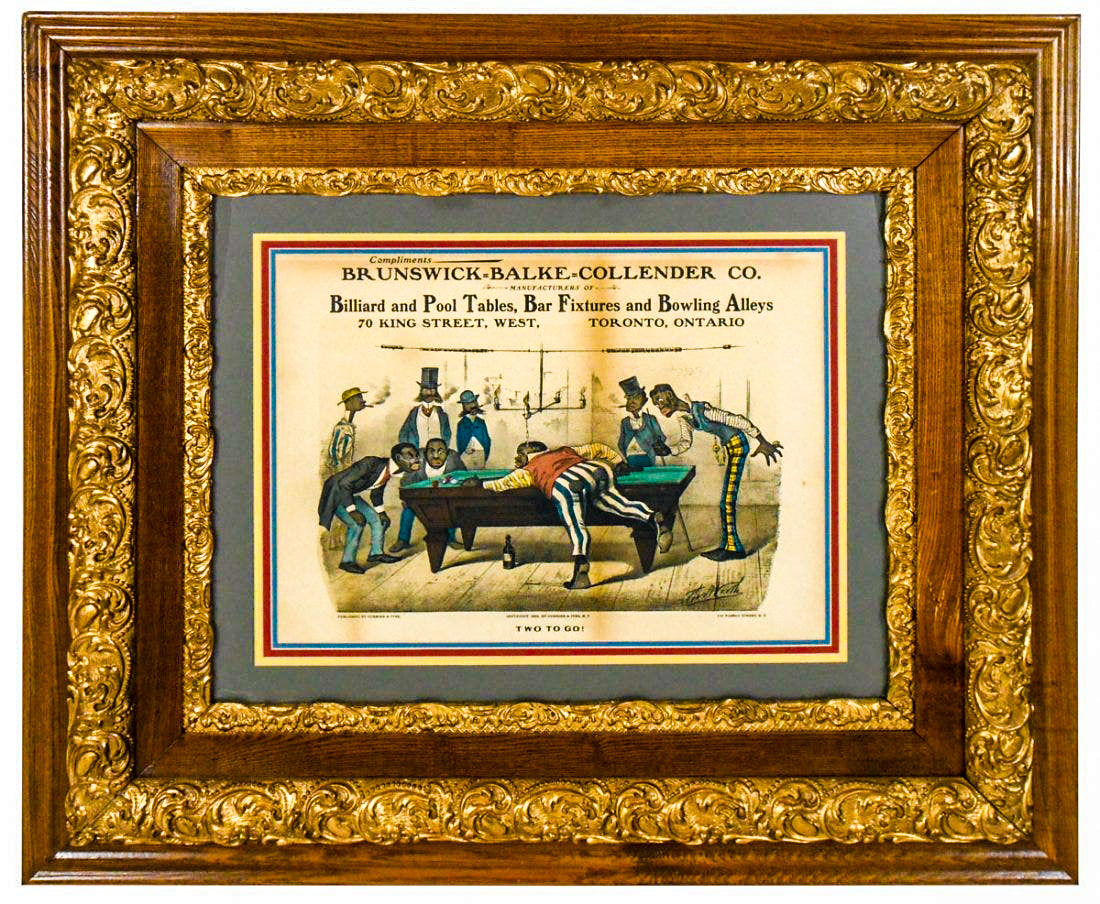 By contrast to the Currier and Ives print above, the 1879/1880 print below issued by Brunswick &Balke (before the acquisition of Collender) shows the Brunswick executives in the framed picture above the billiard table with women of high style playing billiards on the newly introduced Monarch carom billiard table. It would be nice to find the cue cabinet on the right side of this print.
What a much better image to project from the company as they move into the 20th century then the "Dark Town" prints that would follow by two years (shown earlier)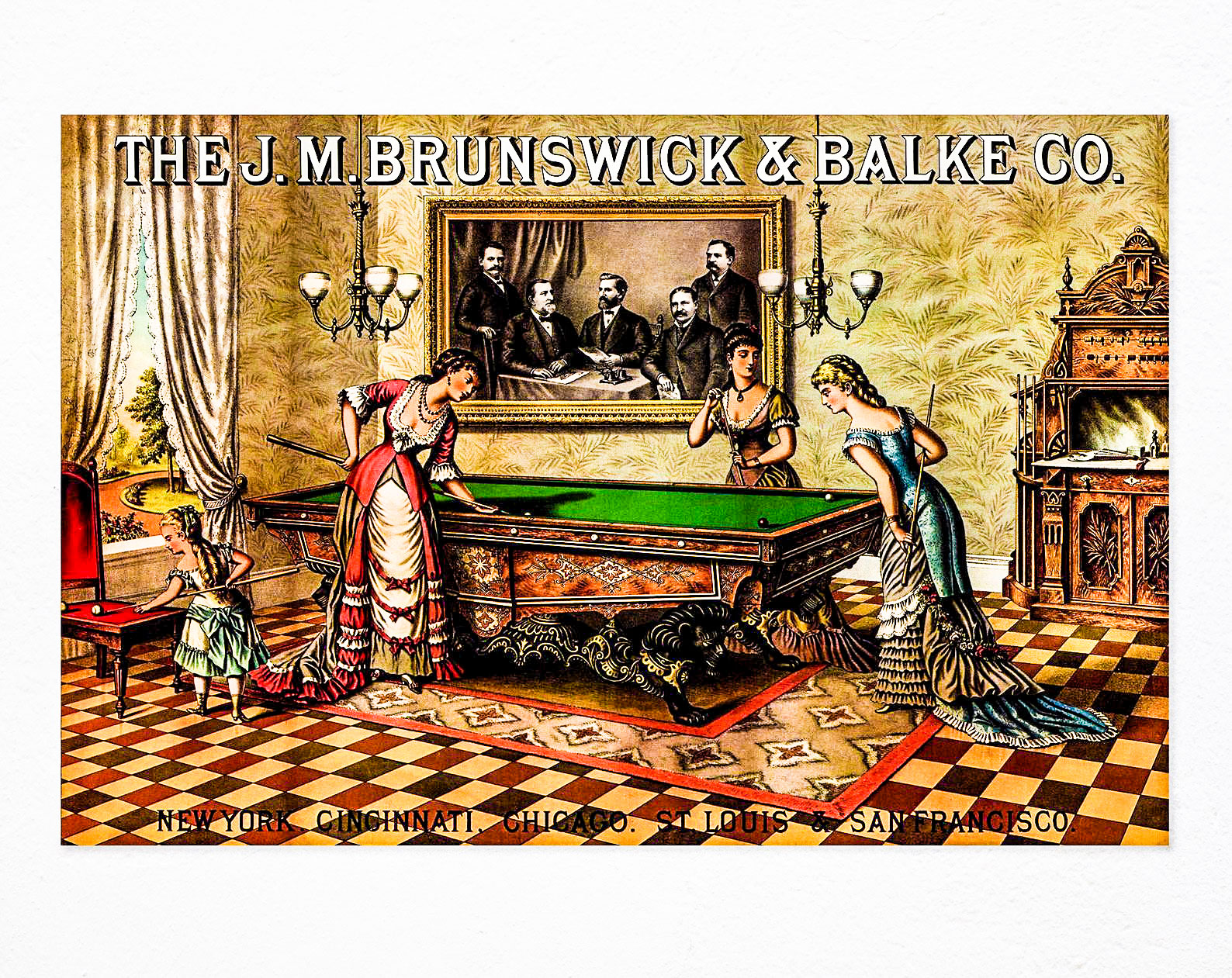 Late in the 1880 all billiard table companies were trying to clean up their image and now we begin to see feel good pictures of families and children playing billiards. Here are a few examples:
Boys playing on a Collender Narragansett.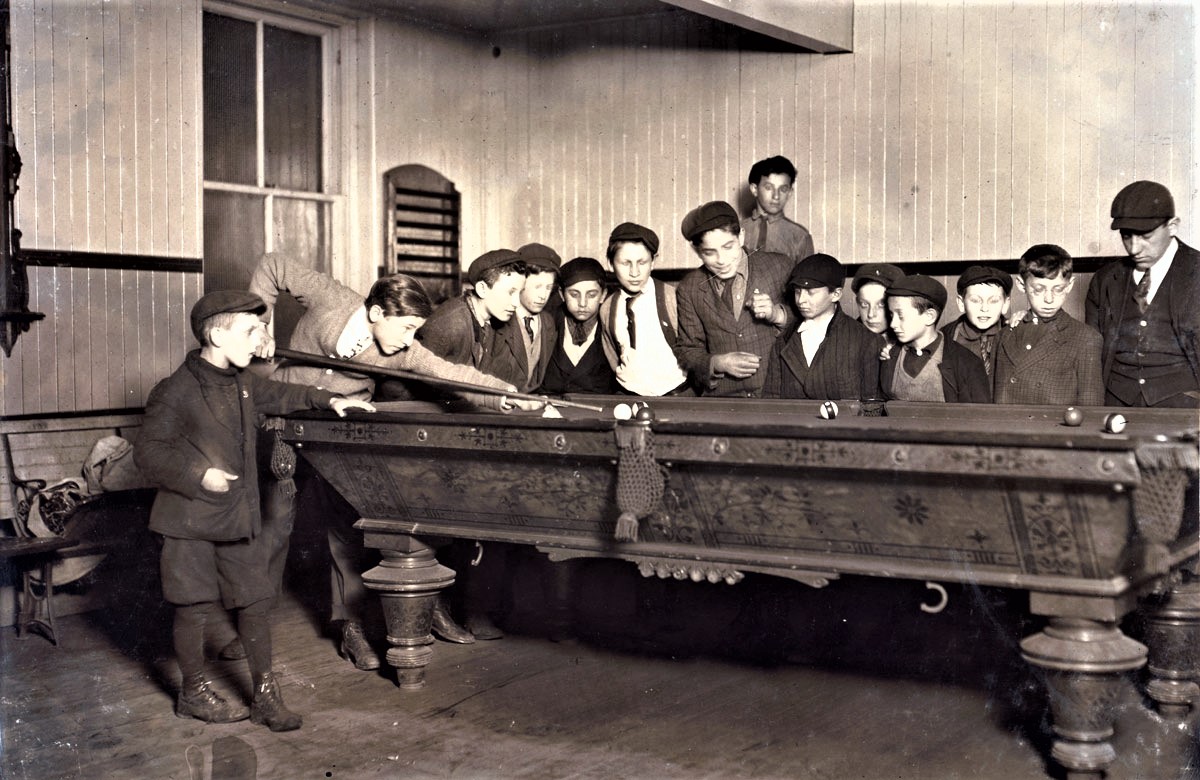 Congenial old men enjoying a game and a drink. No more conflicts: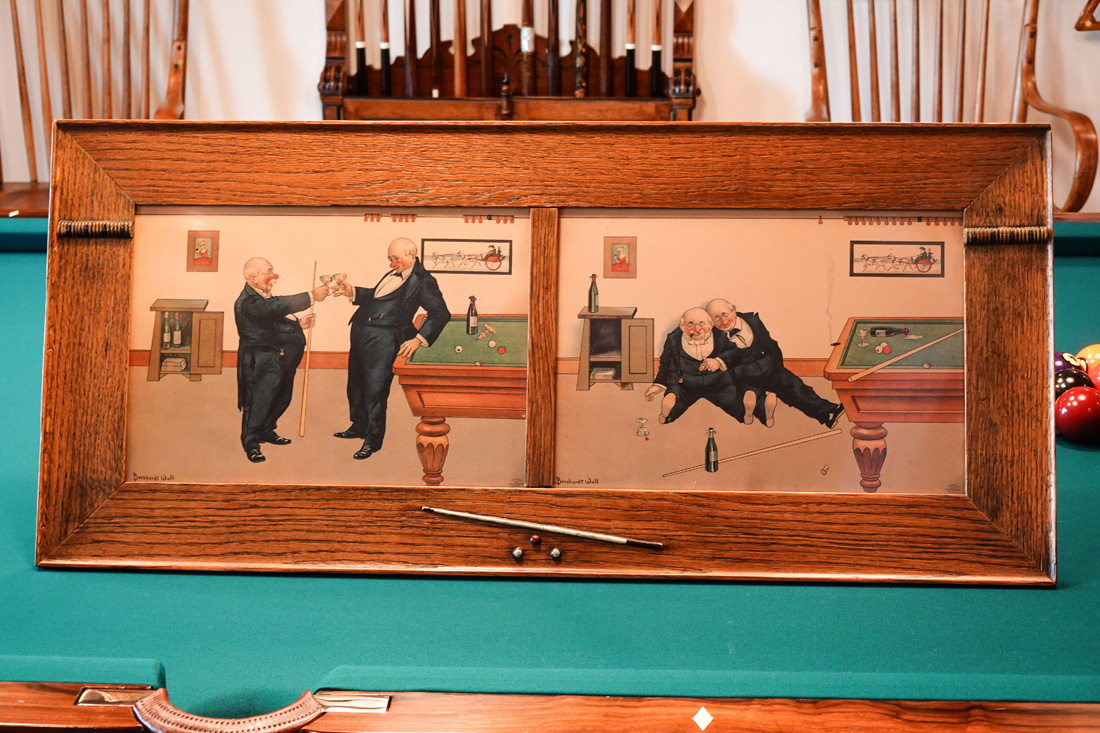 Here again a pleasant look at old gentlemen at play.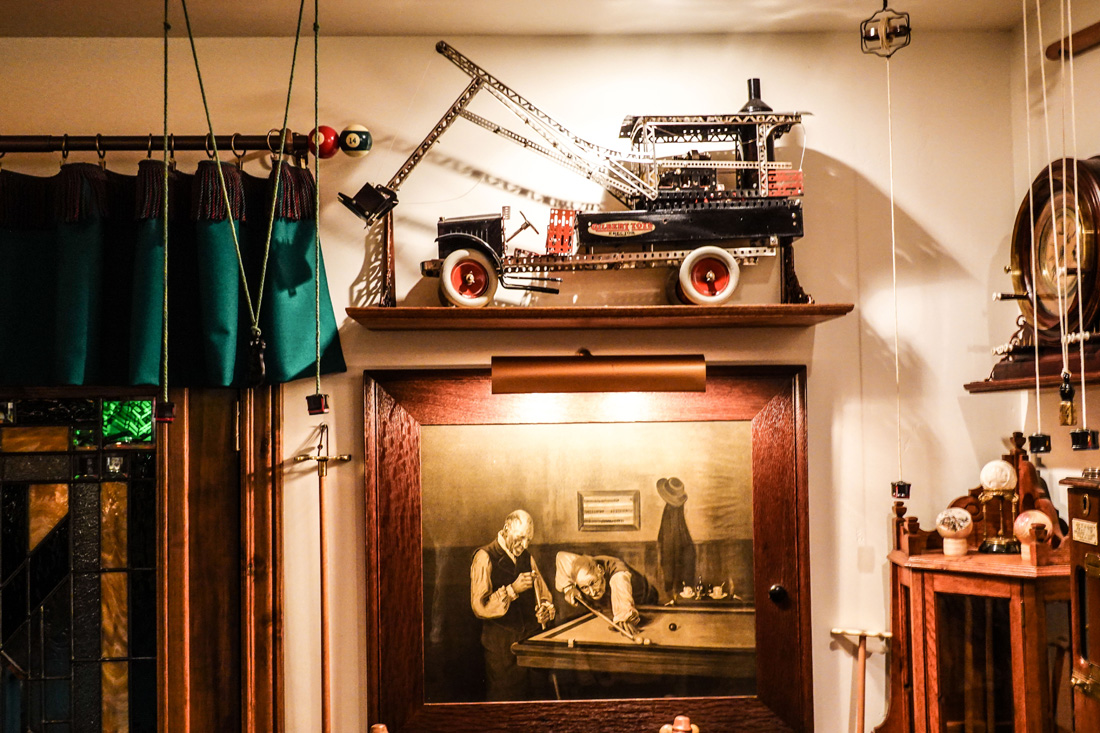 Young children playing billiards, titled "I Can Make It"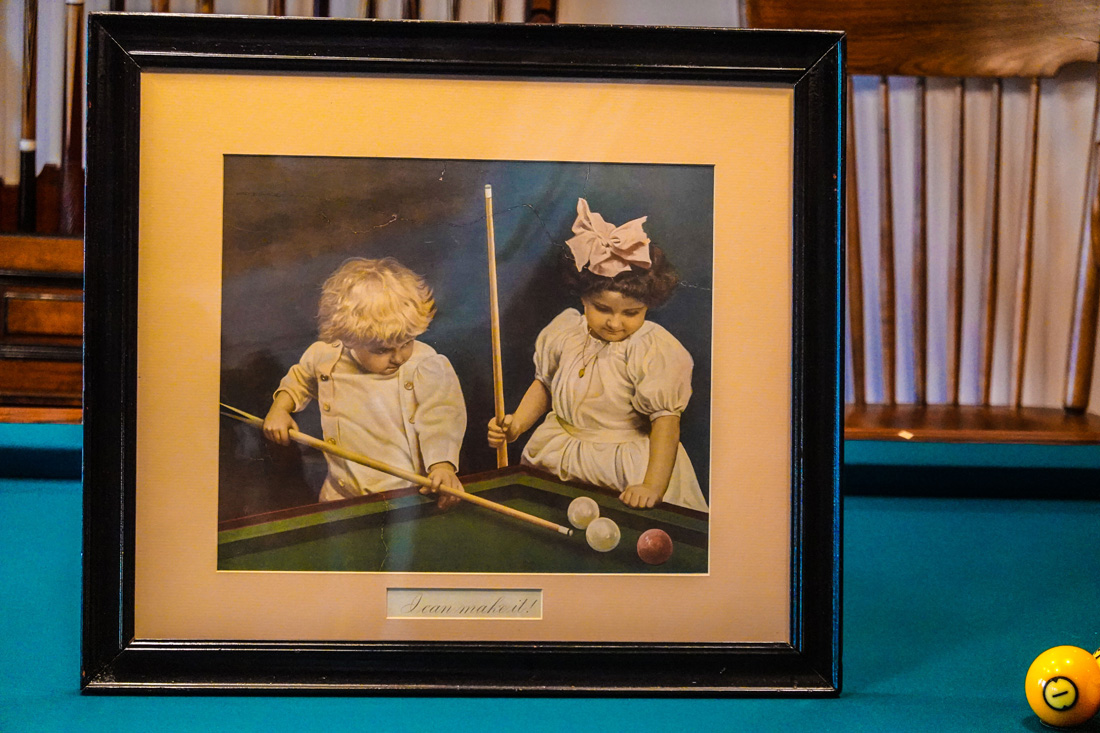 Gordon and Grant issued a print in 1905 called, "A Kiss Shot – Off The Red". This is yet another double entendre where the title and the picture have different meanings.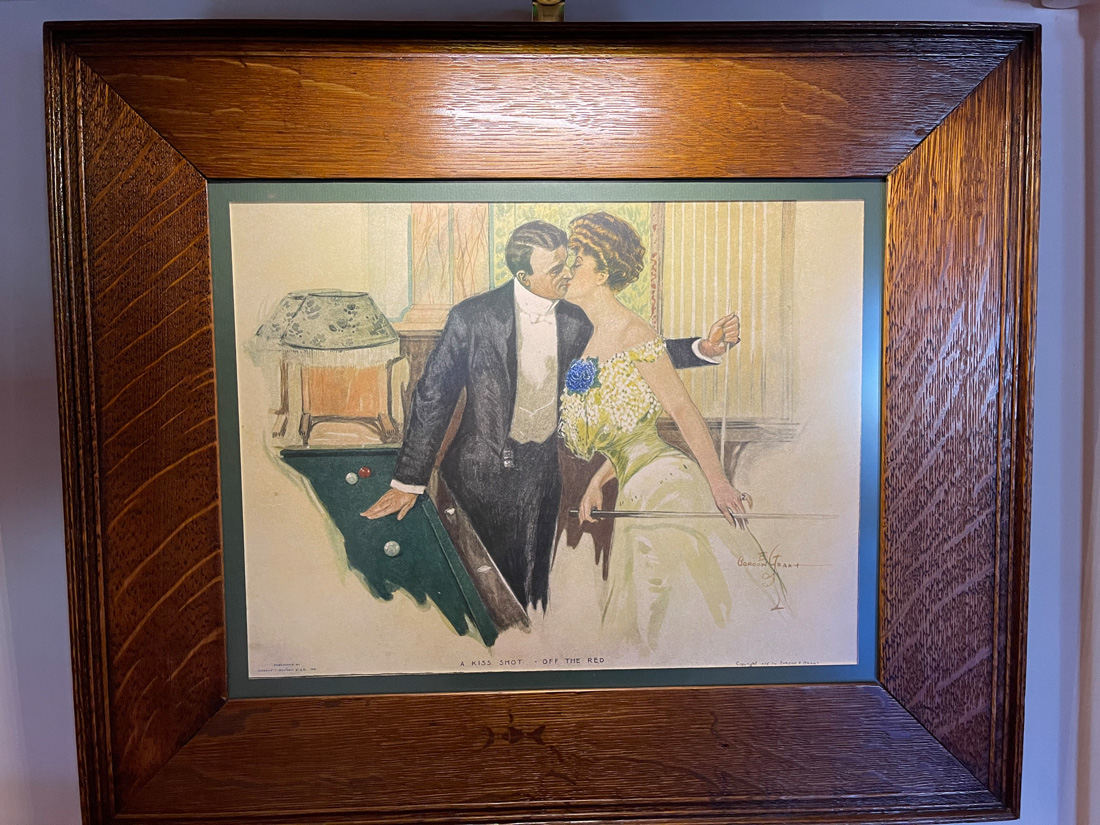 In the early 1900's Brunswick-Balke-Collender Co. realized the ruckus reputation of the industry was jeopardizing demand for billiards. Brunswick made a concerted effort through art and advertising to polish their image. Below are three works of art commissioned in 1910 commonly referred to as Archie Gunn's Girls. These attractive lady billiardists were an effort at presenting a new image of billiards. The first two are displayed in my billiard room.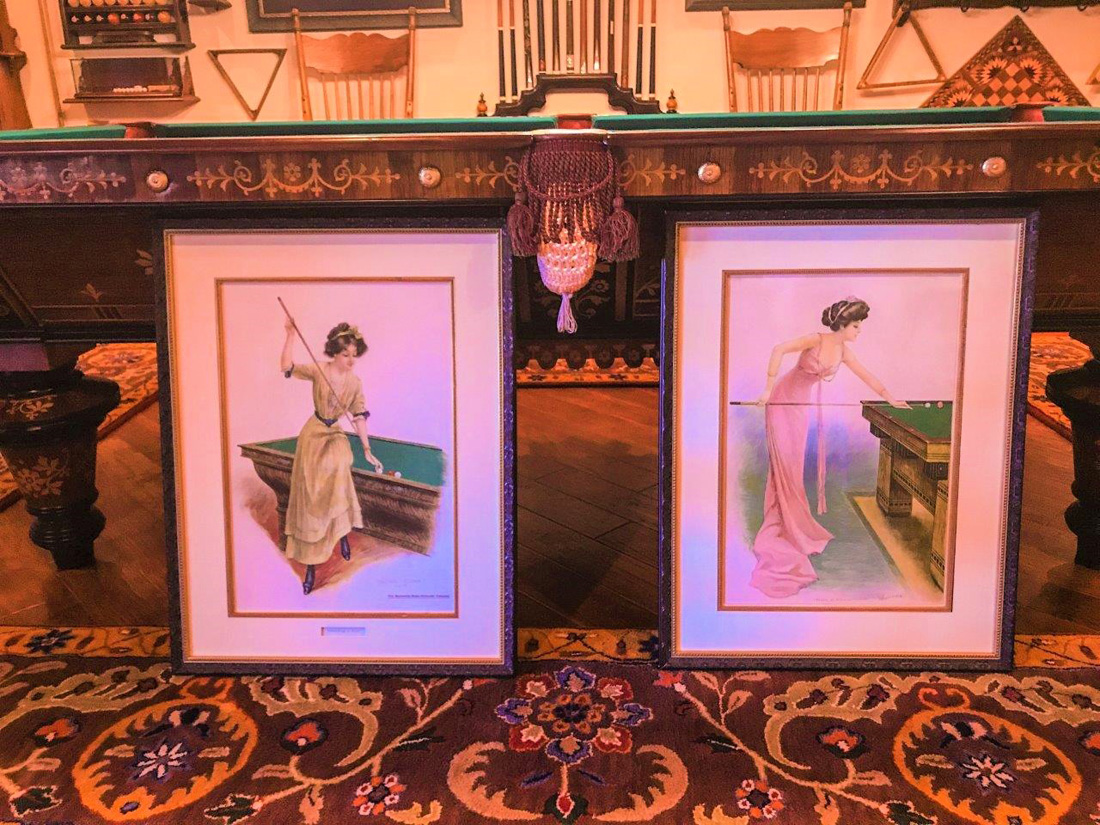 I am on a quest to find the third Archie Gunn lady billiardists. Can you help me in my quest?
"A Graceful Stroke"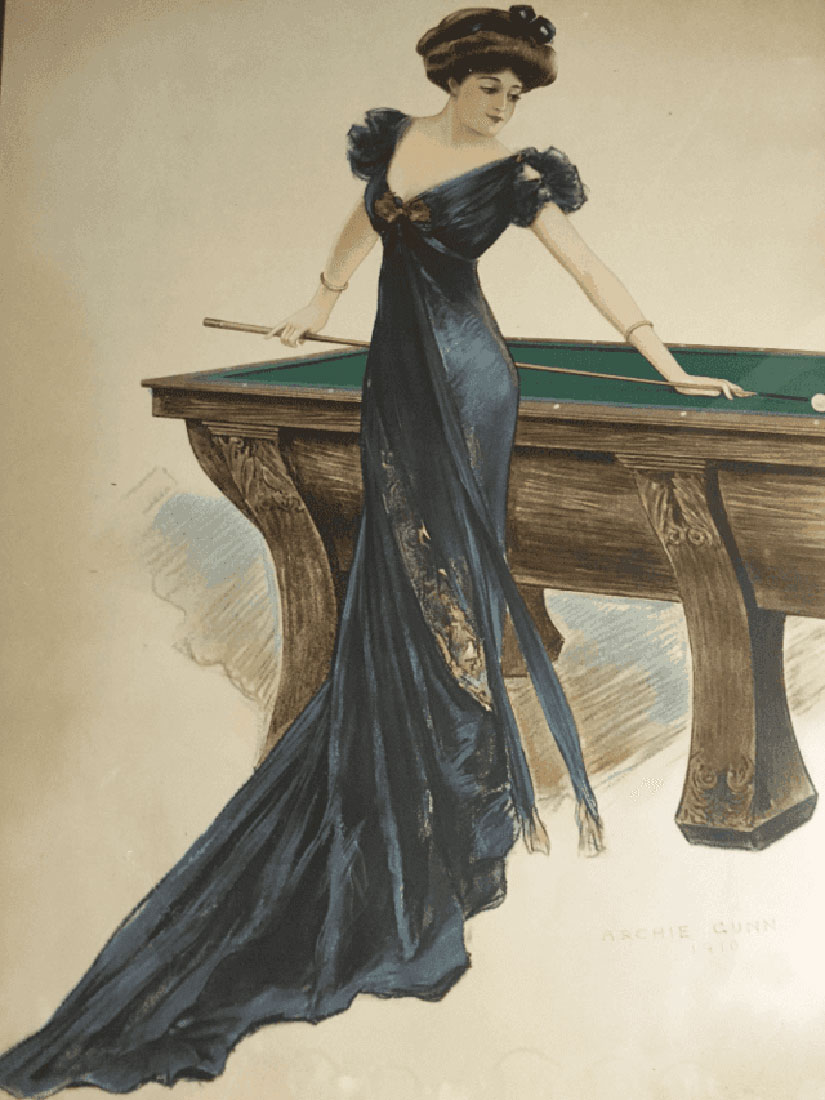 In the 1915 Brunswick-Balke-Collender catalog there is an ad suggesting that billiard proprietors use these lady billiardists prints to promote and improve the reputation of their business.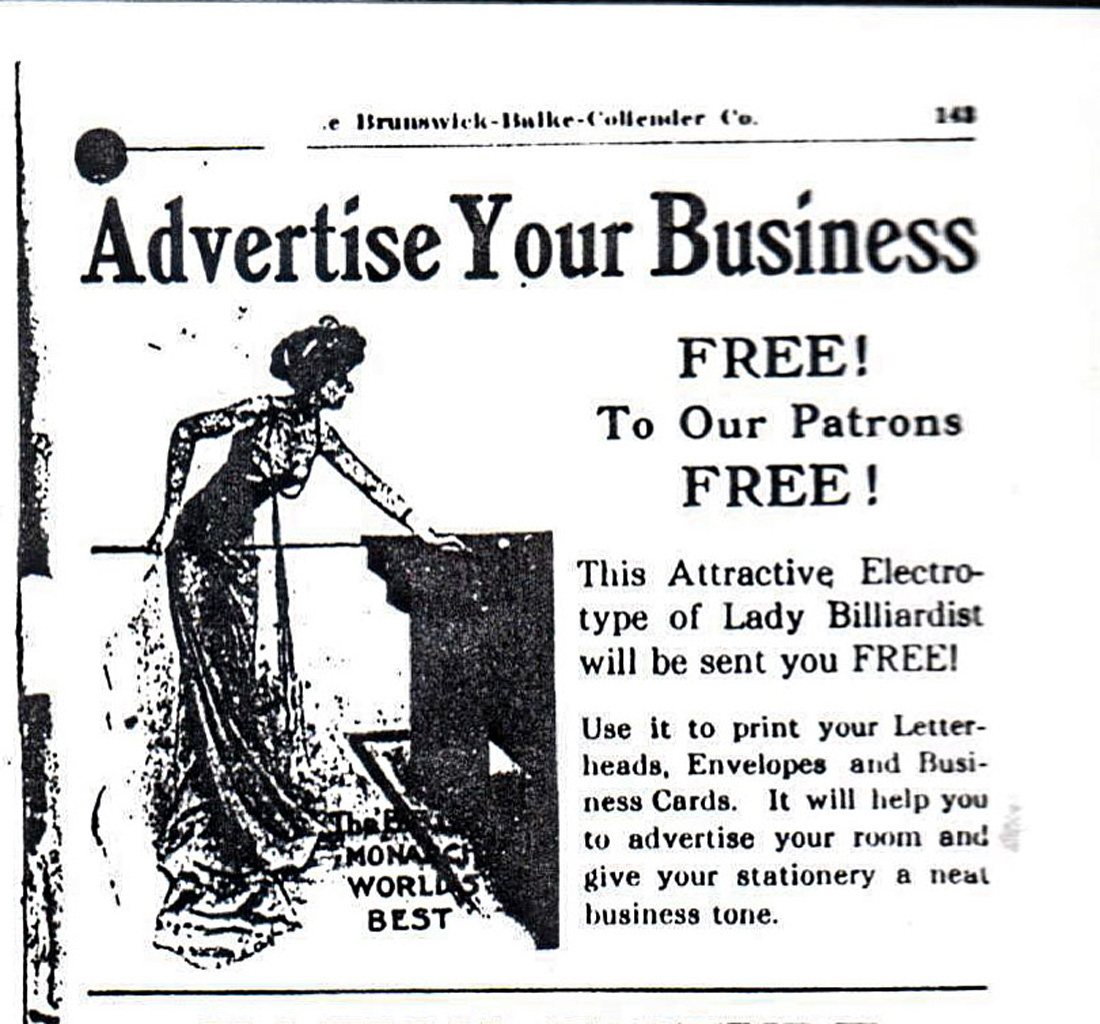 As seen below, in the 1915 Brunswick-Balke-Collender catalog the company strove to enhance the reputation of the billiard industry by striking the word pool with its negative connotations from future promotional materials.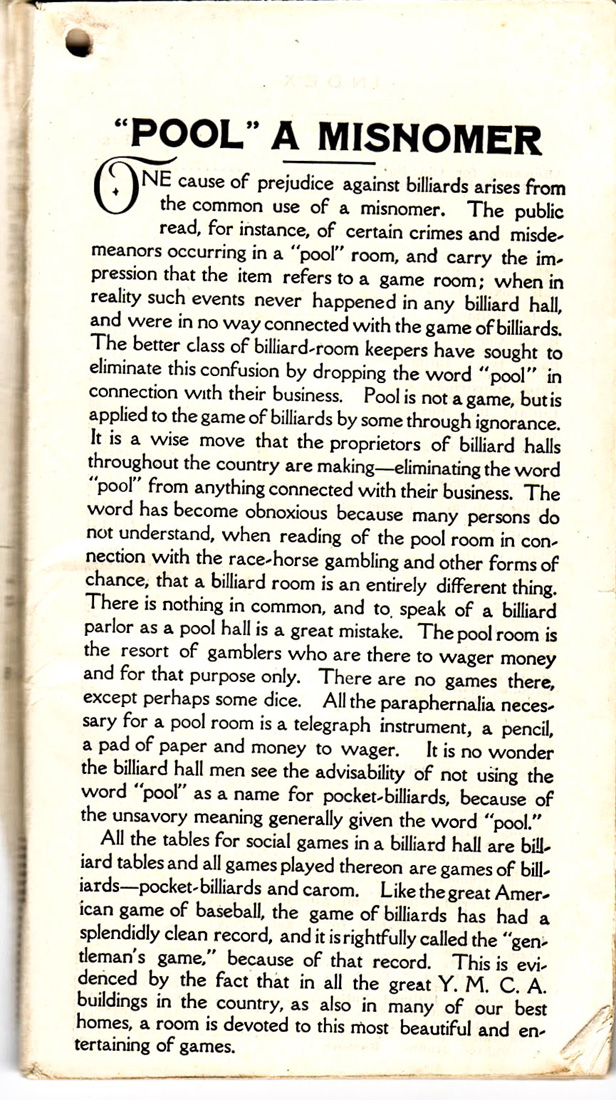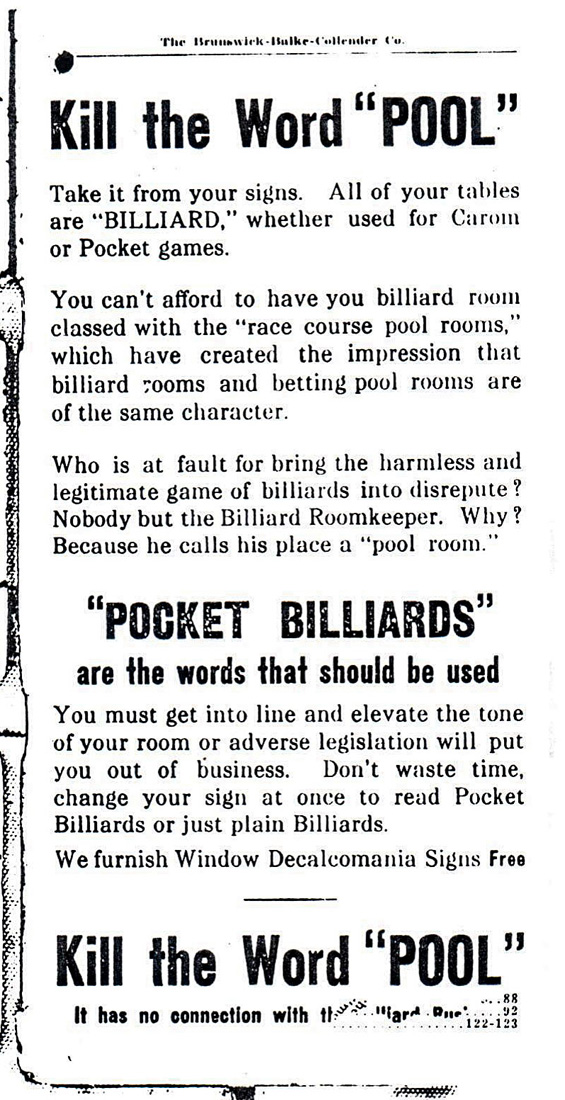 Below is an original water color, possibly a proof, that is in my collection. The print has been restored. Unfortunately, the painting was done on a clay-based paper and the restorer could not remove the water stains. Brunswick-Balke-Collender Co. commissioned this work. The artist is C. Everett Johnson. This is another art work with the intended purpose of place billiards in a family setting. At the bottom is says, "Regardless of Your Duties of the Day, You Can Get Rest and Relaxation by Playing Billiards" It does not say "Playing Pool".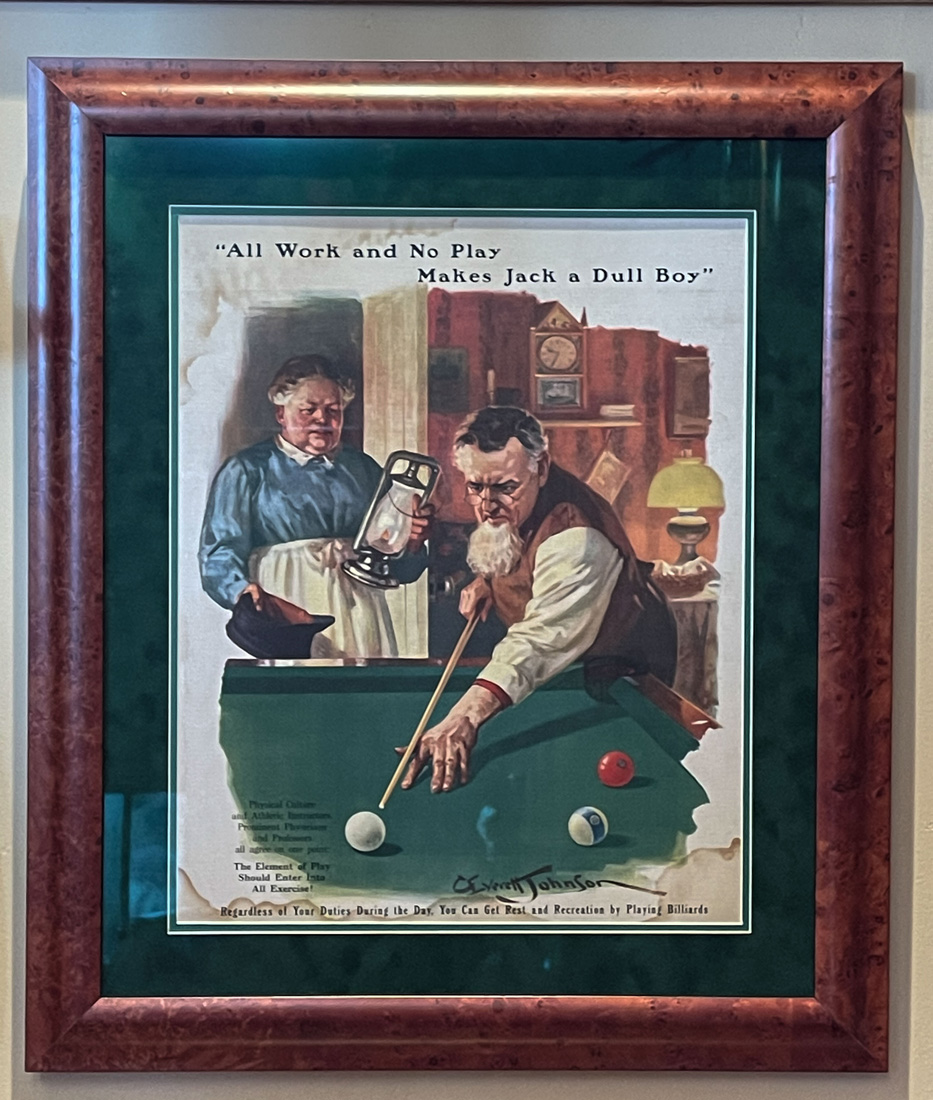 Finally, I will conclude the history of billiard in art with four pictures of European billiard tables from the 1800s. The tables were pictured in C. E. Hughes 1907 work titled "The "History of Billiards in Pictures". It was printed in Fry's Magazine in 1907. Brunswick-Balke-Collender has never come close to duplicating the craftsmanship of a European billiard table. Billiard tables of the United States were mass-produced with as little labor as possible while the European Manufacturers took their time and made one-of-a-kind master pieces.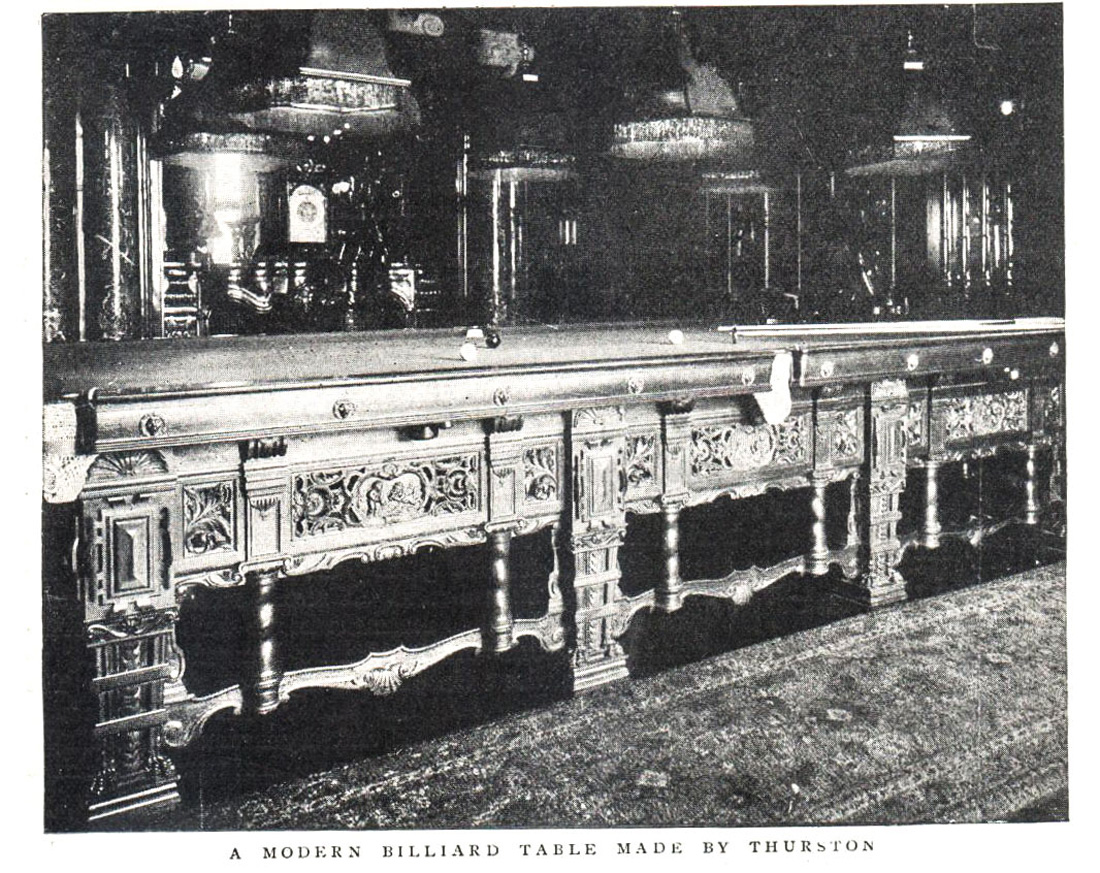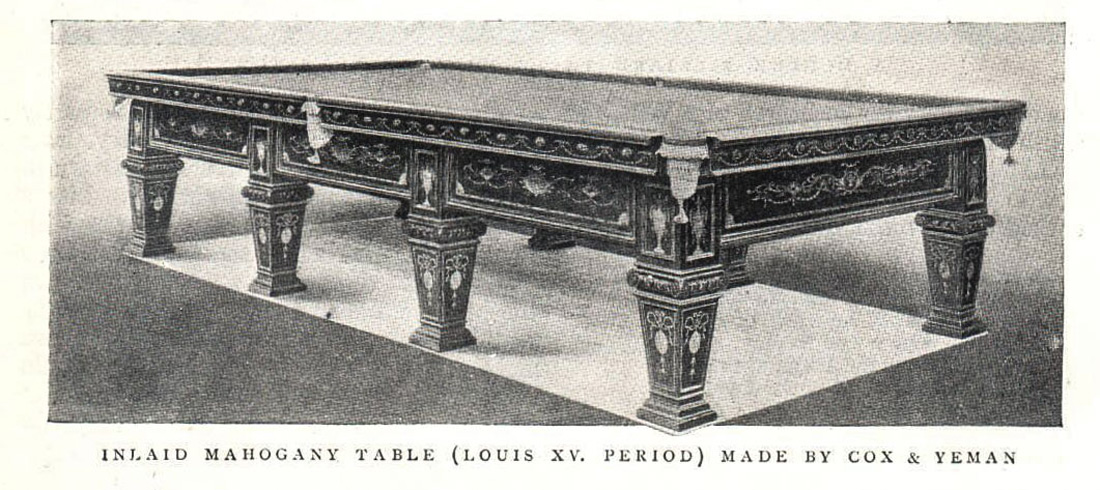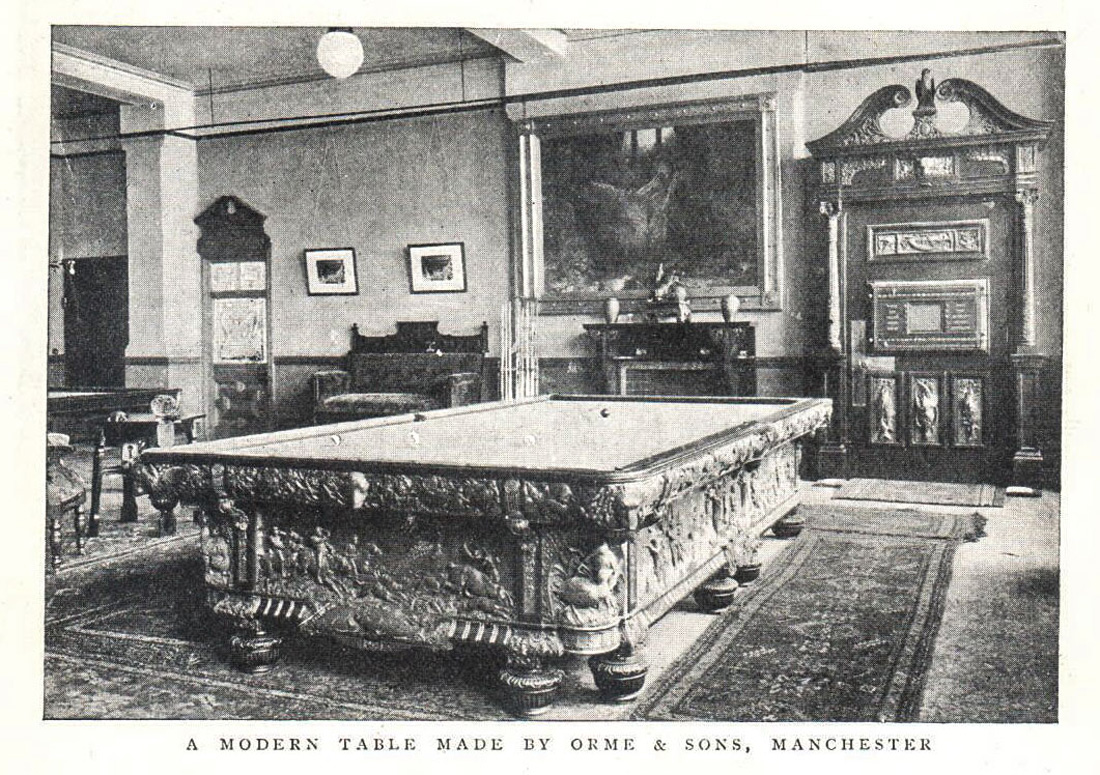 OK, one more, an unusual American creation? This is an eight-sided carom table. I believe Brunswick made this same table but it had pockets.