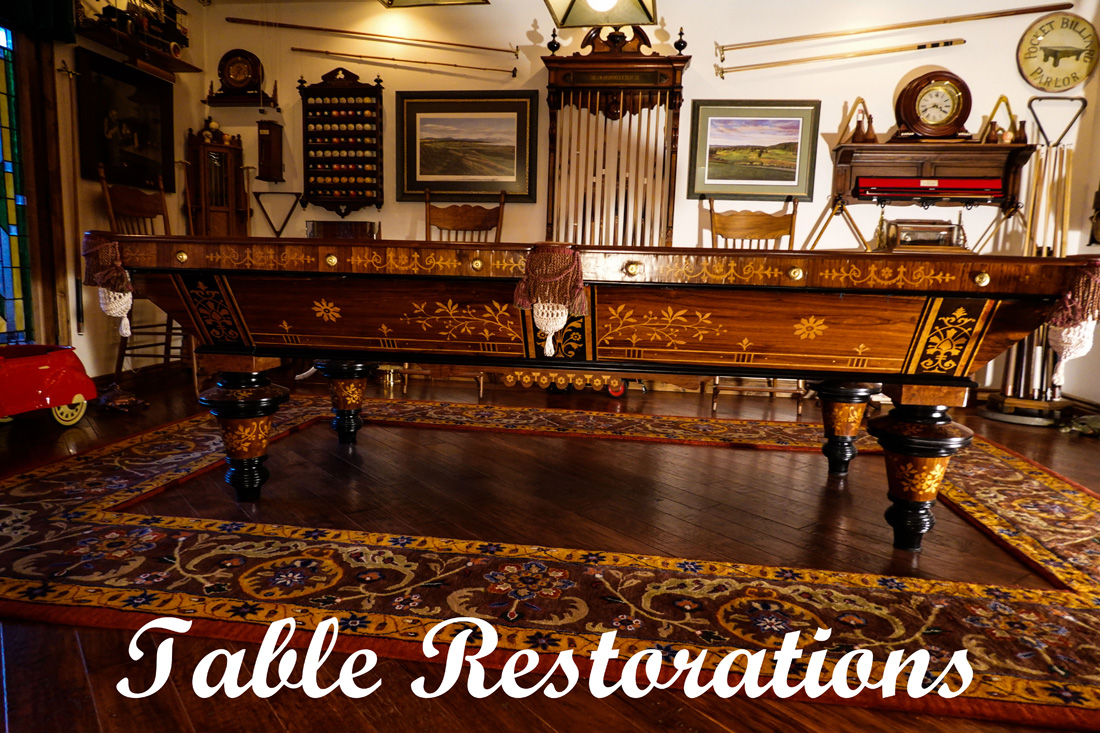 On other pages of this website, I have documented the restoration of my billiard table which is shown above as well as early pictures of 4 generations of Minearts playing pool.  My four sons are all grown with families and homes of their own.  Carrying on the legacy of Minearts playing pool, all of my sons have made a spot in their home for a billiard room and have looked to me to restore a table for them.  The four son's table restorations shown below were quite the undertaking for a novice like myself. The projects spanned a 4-year period and required traveling the western part of the U.S. to acquire the tables not to mention four trips from Arizona to Indiana to deliver each table.
The McCarty table was found in Tucson so not a lot of travel. The nice thing was it came with the ball rack and cue rack you see in the picture.
The Kling required a trip from Payson Arizona where I live to Los Angeles to get the table and then a second trip to Washington State as the slate was not correct when purchased. A very good friend provided the slate as well as correct rails in great shape.
The Starburst Union League was the closest as it was found in a storage building in Phoenix. Remarkably, the Union League required very little restoration except for refinishing. This Union League is also quite unique in that it has skirts that are not often seen on Union Leagues.
The Pfister required another trip to Washington to see my friend who was willing to part with his 6-leg table. My son Todd wanted this table both for its 6-leg design as well as the fact that it had a ball return like his grandfather's table as seen in pictures of the Minearts playing pool elsewhere on this site.  The bad news is this Pfister had 3-piece, 1.5-inch slate which is quite heavy both for me when moving it to Arizona and also when the installers had to move it down stairs at my son's home. The trip to get Todd's table was most memorable as it gave me chance to see my old friend who had the table.  I use "old" here figuratively at neither of us are spring chickens.  Bad news on the way home from Washington state as I hit a dear at night.  I had to have both my mini-van and the trailer towed home from Utah to Payson, Arizona.  Good news as my son sees it there was no damage to the table.
Frankly, I am not one to sit around. I must be working in the shop to feel my days are complete.  Therefore, restoring these table provided a great deal of satisfaction.  As you look at the four tables pictured below you will see a proud father, four great son's and four unique tables each well over 100 years old.  The pictures were taken when each of the tables was delivered.  Today, the boy's billiard rooms are far more decorated to each one's taste.
Paul's Starburst Union League, June 2019: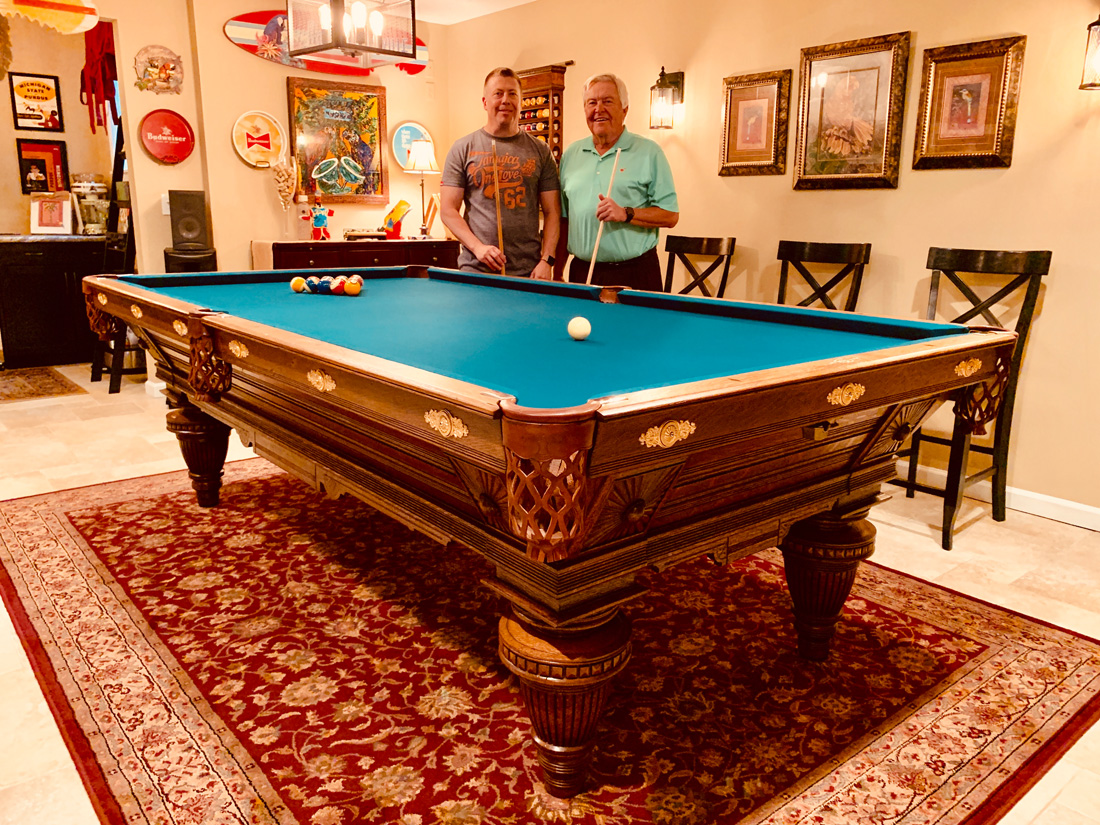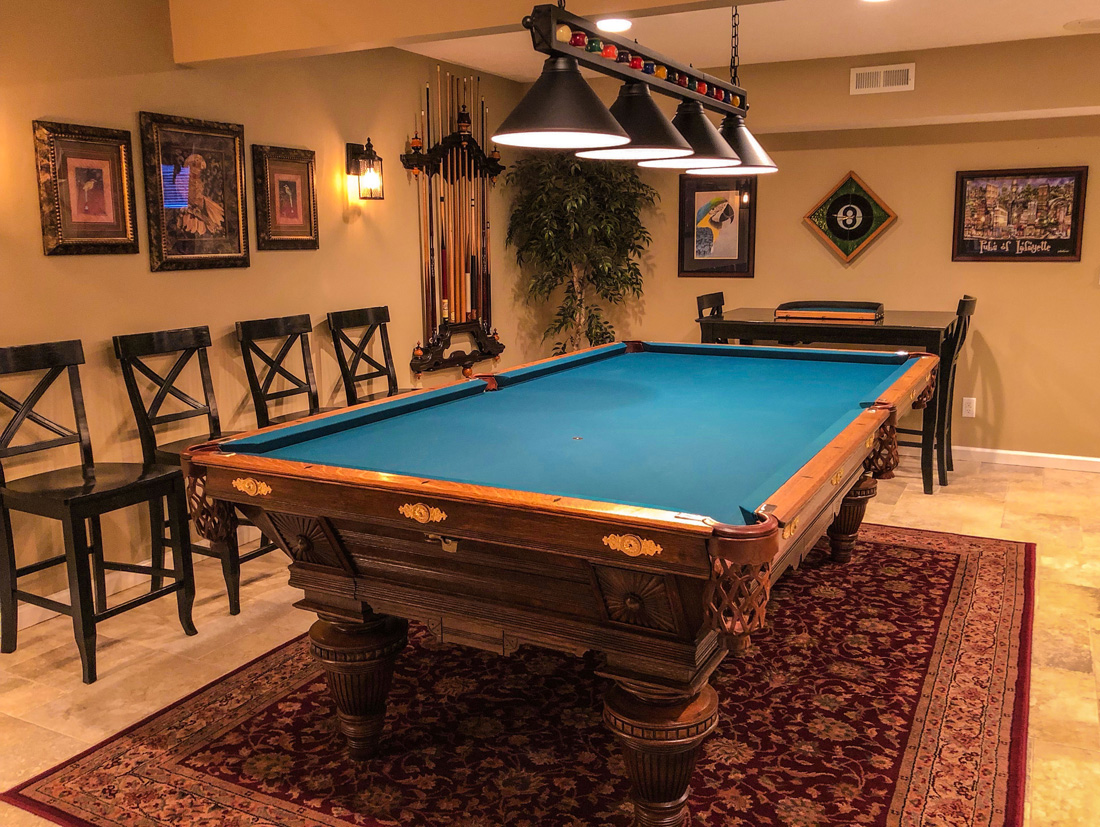 Todd's Pfister, July 2020: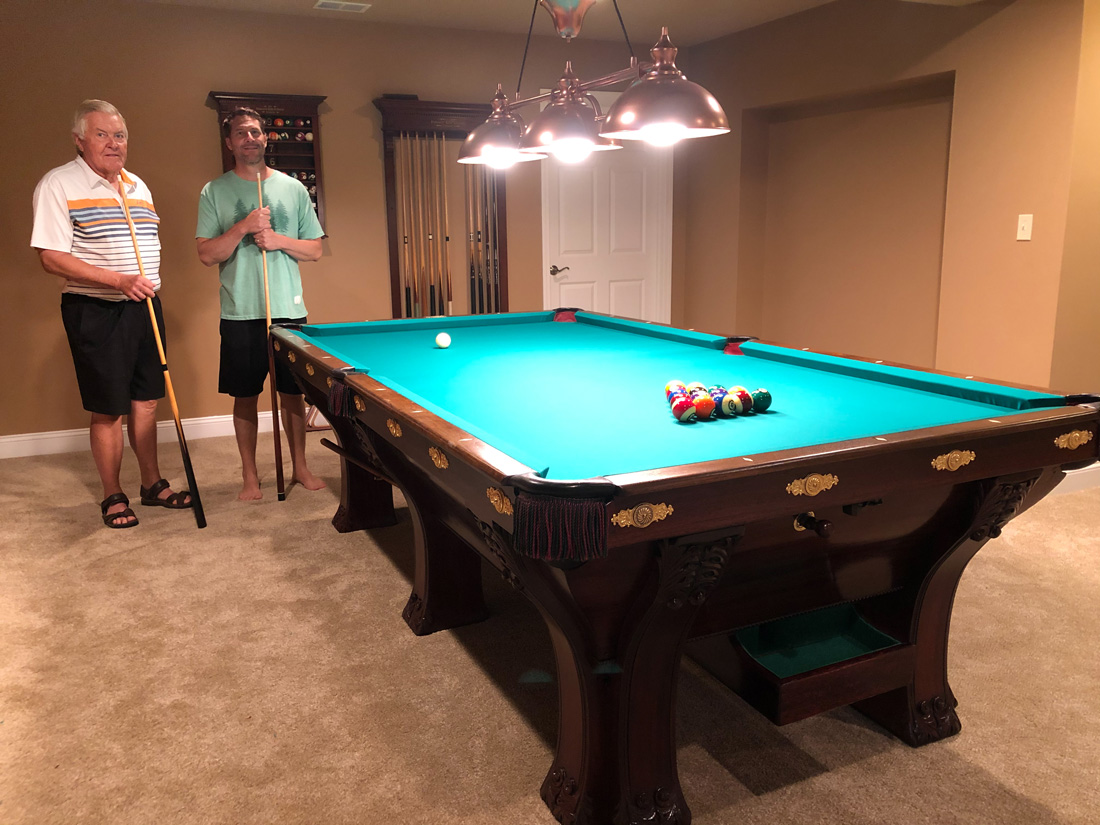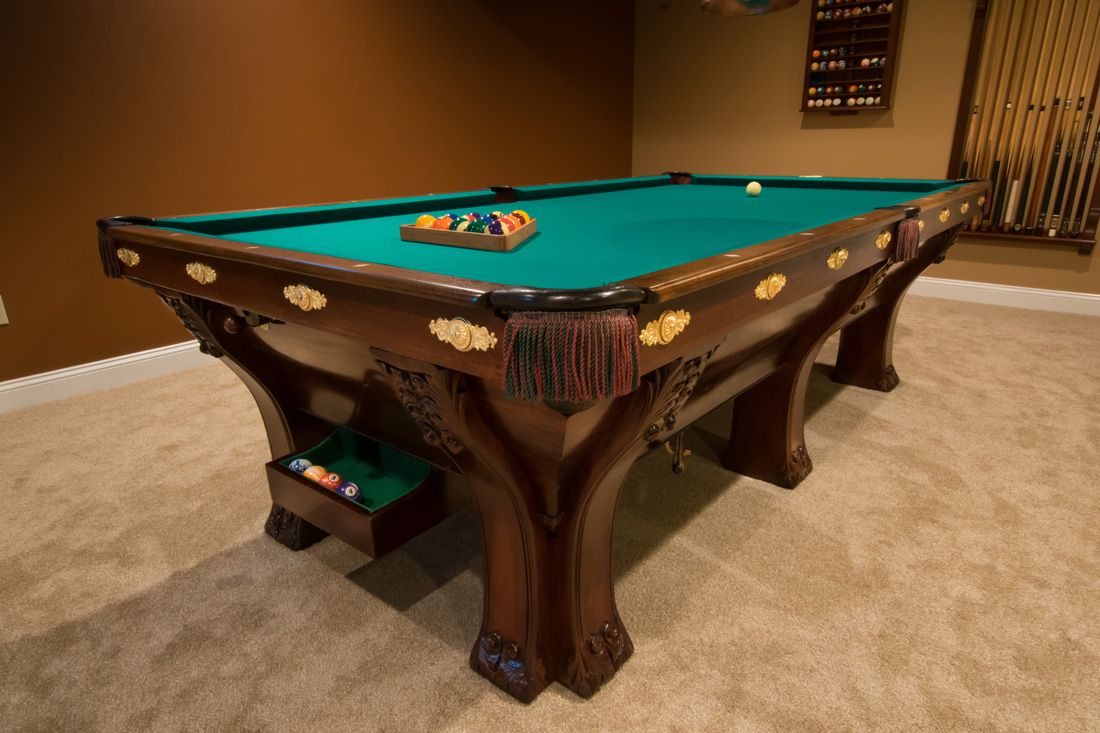 Scott's J.J. McCarty, May 2016: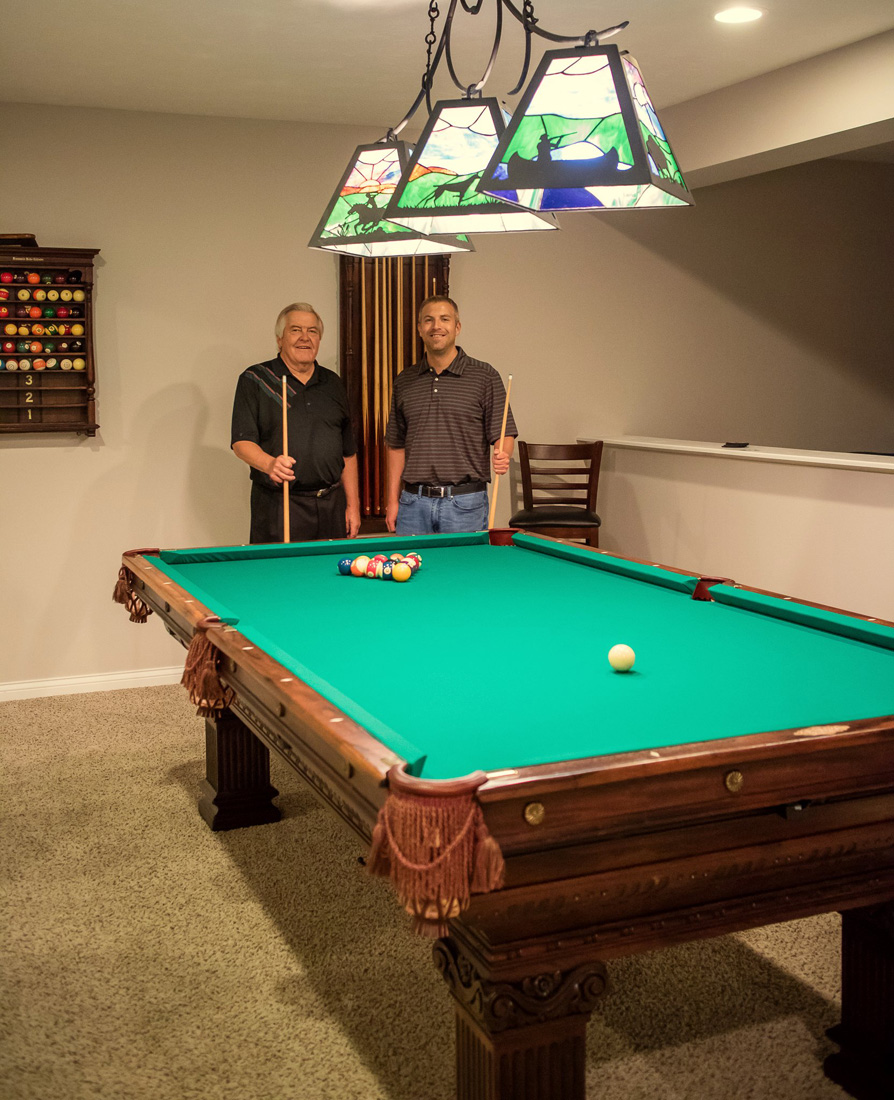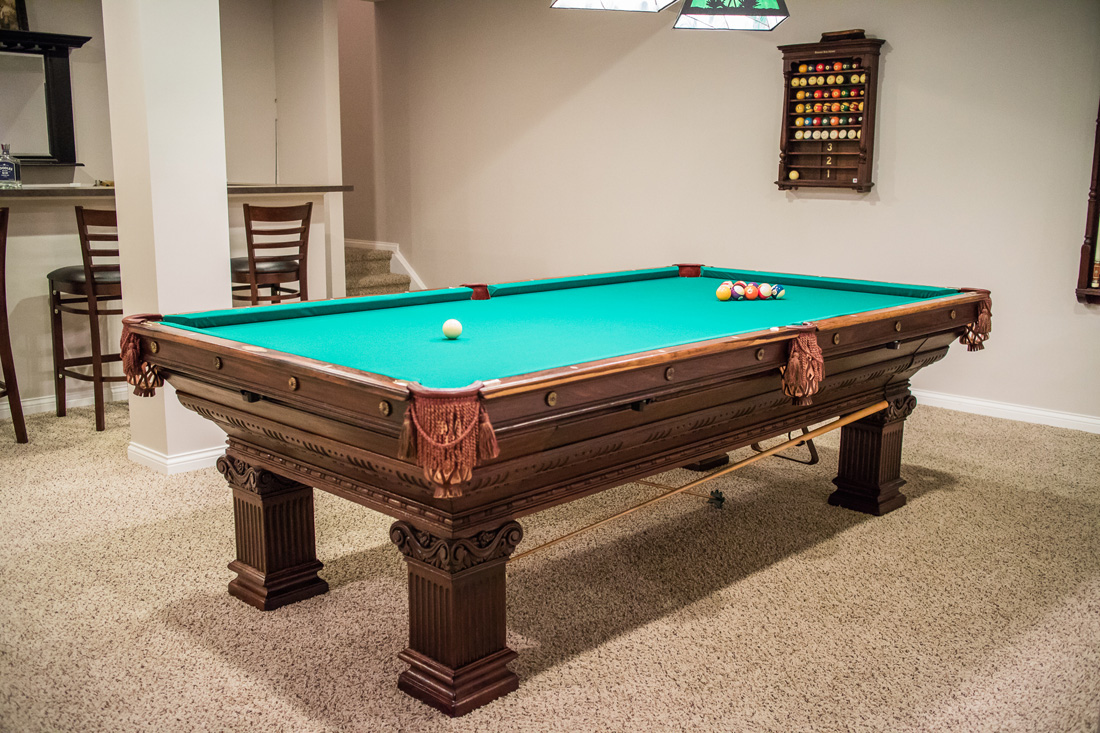 Gary's Kling, October 2019: